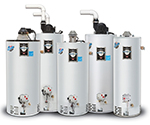 After heating and cooling, water heating is typically the largest energy user in the home because it is necessary for so many domestic activities. The capacity of a water heater is an important consideration. The water heater should provide enough hot water at the busiest time of the day. We offer a wide variety of electric, gas and tankless water heaters.
We proudly install Michigan Made Bradford White Water Heaters!
We provide installation, service, and repair of all brands of gas and electric water heaters, including the traditional tank type heaters and tankless, or on-demand water heaters. In most cases a new water heater can be installed the same day, if needed.
We also install and service Tankless On-Demand Water Heaters!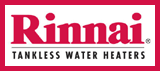 A tankless, or on-demand, water heater heats water only when you need it. These heaters can be installed in a closet, on an exterior wall or another convenient place inside your home. They can heat your whole home or a single point of use such as a shower, sink or appliance.
A natural gas, propane or electric tankless water heater gives you an endless source of hot water, all while saving money on energy costs by not storing, heating and reheating the same tank of water. While the initial purchase and setup is more expensive, most homeowners find enough energy savings for the appliance to pay for itself after a few years.
Frequently Asked Questions